Squeezebox notifications in Ubuntu
I've caught a cold and have been in bed all day. The internet connection at the hotel is not good enough for video streaming and the TV only shows crap movies/series and lots of sports. So, what to do then?
Well, I looked through my ever growing list of small coding projects to do whenever I have the time for it. And I decided to start working on "now playing" notifications in Ubuntu from my Squeezebox(es).
And after ~4 hours of work, I'm very satisfied with the result: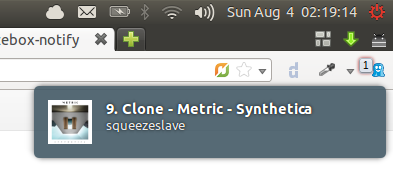 It notifies on pause/play and when the track changes.
Usually, at home, I'll just look at the display of the Squeezebox to see what track is playing. But at work I use a headless squeezeslave a lot, and having to go to the web interface to check out track info is suboptimal.
I hope to find some time to improve it further another day.
Code is available on GitHub.
Skriv kommentar